Great Yarmouth car stopped with guttering sticking out of window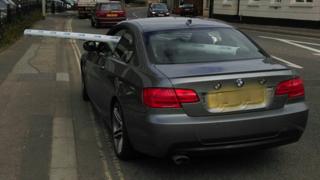 A driver has been stopped by police for having several feet of guttering sticking out of the car window, overhanging the pavement.
The BMW was pulled over in North Quay, Great Yarmouth, on Wednesday morning.
Norfolk and Suffolk Road Policing tweeted a photograph of the car and said "4m of guttering does not fit in a 2 door saloon. #RoadSafety".
On Friday, a car was stopped in Great Yarmouth with a wardrobe strapped to the roof with bubble wrap.
Police are yet to comment further on the latest incident but are deciding whether to prosecute the driver using a "clearly very dangerous" method to transport furniture.
Sgt Chris Harris tweeted an image and said the thin plastic was "not sufficient to secure a wardrobe to a car roof".