Gym in Norwich apologises for expletive-laden email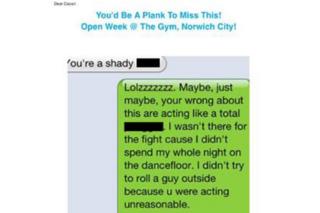 A gym has apologised after mistakenly sending an expletive-laden email to its members.
The Gym in Norwich distributed a series of text messages between two people having an argument, instead of details about an open week.
One member said the person responsible "needs to think about his actions and words."
The firm admitted the email contained "disturbing content" and it was caused by "image files" being corrupted.
More on this story and others from Norfolk
A fight outside a nightclub appears to have been the source of the argument, which descends into an exchange of swear words and insults.
Member Ciaran Heffernan said he was shocked and "embarrassed" on receiving the email.
He said he was surprised staff had not spotted the mistake before sending it, and that it took them an hour to realise their mistake.
"Whoever wrote the said texts in the picture clearly needs to think about his actions and words that he uses," he added.
A spokeswoman for The Gym Group said the email was "handled through a third party so it did not relate to the actions of a Gym Group employee."
She declined to reveal the name of the third party and said the company did not have anything to add to its apology, which appears on its Facebook page.