Missing cocker spaniel rescued from 25m deep dry well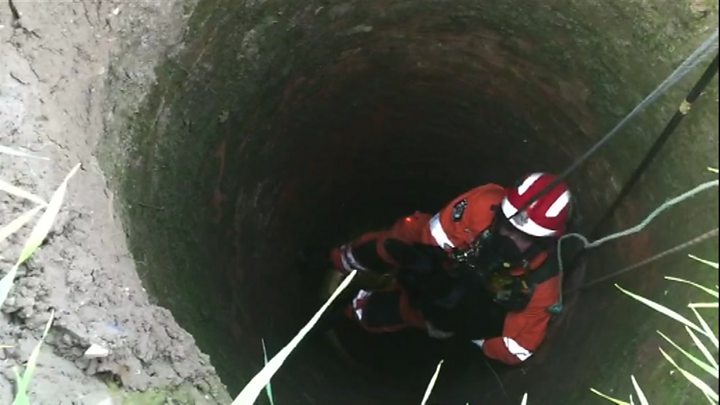 A cocker spaniel who went missing for two weeks has been winched out of a 25m (82ft) deep dry well.
The mystery of two-year-old Bobby's disappearance from Gimingham in Norfolk was solved when a nearby farmer heard yelps from a barley field.
He was found stuck down the well which was completely obscured from view.
Bobby's owner, Adrian Phillips, said he and his wife had almost given up hope of ever finding him alive and said it was "incredible" the dog had survived.
Read this and more stories from Norfolk
As reported in the Eastern Daily Press, Bobby went missing while out on a walk a fortnight ago.
On Thursday, local farmer Ali Cargill, heard Bobby's barks and found him down a previously covered-over well which had been in a house demolished years ago.
Food and water was winched down to him, while Norfolk's Urban Search and Rescue made their way to the site.
Mr Phillips said: "When he popped his head up through the hole, he had that real 'hang dog' look on his face.
"But I gave him a cuddle and his tail started wagging, and it was like nothing had happened.
"I just can't thank his rescuers and Ali Cargill and his wife Rachel enough for their help," he said.
A check up with the vet, who thought he might have been down the well for the entire fortnight, found Bobby was fit and well, although he had lost weight and had bloodshot eyes.
Mr Phillips said they thought Bobby's fall had been cushioned by a wad of mud down the wall, and he had survived by eating wet mud.