Sam Alger: Death 'not connected' to Spanish club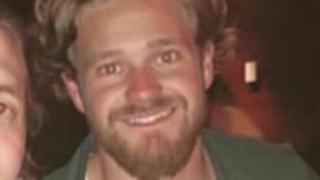 The death of a Briton who disappeared after going clubbing had "nothing to do" with the event he had attended, organisers have said.
Sam Alger, 25, from Norfolk, was last seen outside the Elrow club, near Barcelona, on Sunday night before his body was found on farmland on Tuesday.
One clubber claimed the club was "unprepared" and ran out of water.
Elrow's spokeswoman said "what happened" had "nothing to do with us and there were no incidents inside".
Police in Barcelona said post-mortem results could take a few days, but the body showed "no signs" of violence.
Mr Alger, originally from Necton, near Swaffham, was believed to have worked for the Qatar Stars League football association.
Clubber Emma Mason, 25, of Sheffield, was among those to complain on social media about the event which started at 09:00 on Sunday.
"It was boiling and over-crowded and at about 8pm we went to get some bottles of water and they told us they were all out... and then they ran out of soft drinks," she told the BBC.
Ms Mason left the event at about 23:00 and said when they eventually got off the site there were not enough taxis and buses.
"I think the club was unprepared for the number of people who went," she said.
Elrow's spokeswoman said: "The police and local authorities did a full inspection at the club in the evening of Sunday and found everything to be in order (including safety, capacity, health, etc).
"There was a public transport strike and we called the police to help solve the taxi situation, we doubled up our private bus services and called all the taxis at the airport.
"But that situation had nothing to do with Sam Alger's death."