Wroxham boat deaths: Carbon monoxide safety video released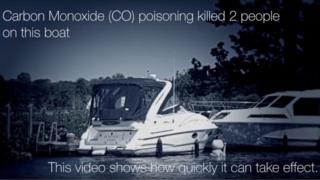 Accident investigators have warned of the dangers of carbon monoxide after the deaths of a couple and their dog on a boat on the Norfolk Broads.
A man in his 60s and a woman in her 50s were found dead on the vessel moored near Wroxham Island on 9 June.
The Marine Accident Investigation Branch (MAIB) found carbon monoxide from a running engine reached "high levels" in under three minutes.
MAIB filmed a video on the couple's boat highlighting the dangers of gas.
At the start of the video, a message tells viewers the film is designed to show "how quickly it [carbon monoxide] can take effect".
Live: Updates on this story and other Norfolk news
It goes on to describe how exhaust fumes from a running engine spread underneath the boat's canopy, causing carbon monoxide levels to rise before they spread down into the cabin where the couple and their dog were.
Investigators found the boat, named Love for Lydia, did not have a gas alarm, and the video encourages viewers to fit one, as well as describing the symptoms of poisoning.
MAIB, which investigates marine accidents involving UK vessels worldwide, is due to publish a full report on its investigation at a later date.