Norfolk children's services: 'One chance left' to improve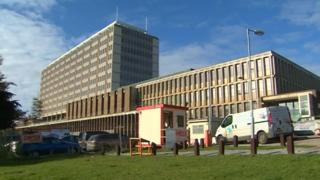 A commissioner overseeing Norfolk's failing children's services said it has made "demonstrable progress" but "only one chance left to deliver".
The department was rated inadequate in 2013 and is being assessed by David Hill from Essex County Council.
His first report to the education secretary said children were failing to reach their potential.
The council said many recommendations made by Mr Hill in March were "well under way".
Mr Hill was appointed after an Ofsted inspection last year found it had failed to make improvements in looked-after children and leaving care services.
The areas of children in need of help and protection, adoption performance and leadership, and management and governance were rated "requires improvement" by inspectors.
Under government guidelines the department must improve within a year or face being placed with another authority or trust.
'Too insular'
Mr Hill's report described the service as "too insular" and recommended quarterly meetings with the Department for Education to ensure "momentum is maintained".
He also suggested an external mentoring programme be "rapidly" introduced to support all senior managers.
"There is only once chance left to deliver, the basics are in place but support, challenge and assistance will be required," he said.
Ofsted inspectors found the council had lost contact with 190 children who had left care.
'Demonstrable progress'
Mr Hill said the data was "inaccurate and presented a more concerning picture".
He found both looked-after children and leaving care services had made progress but it was "not good enough that the improvement journey is taking so long".
Mr Hill added: "I do not consider that there is merit in looking for an external organisation to run children's services on behalf of Norfolk at this time.
"Norfolk continues to have significant challenges... but there has been demonstrable progress, which is continuing."
Roger Smith, chairman of the children's services committee, said he was "delighted" improvements had been noted.
He added: "Our challenge is to bring rest of service up to this level and then beyond."