Mediators called in over four-day playground protest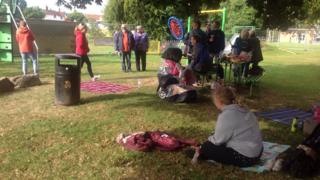 Campaigners are continuing to patrol an under-threat playground on the fourth day of a sit-in protest.
Wymondham Town Council wanted to relocate the playground after receiving noise complaints from residents.
Protestors blocked contractors who arrived to start work on King's Head Meadow on Monday.
Norfolk County Council has offered mediation services to bring about an "amicable solution", the town council said.
A statement said work had been suspended.
Protestor David Roberts said the demonstration had brought the community together and would continue despite the mediation offer.
"People are very sceptical at the moment," he said.
"Although we might calm things down, the thought is that yes, we are going to remain a presence at the park during the daytime and keep our heads up and our ears pinned back so we can hear what's going on."
The area has been patrolled by parents and children since diggers arrived to remove the play area.
Town councillor Lee Hornby said the area did not comply with planning guidelines which meant it was too close to homeowners in nearby Orchard Way.
He said: "I do believe that the council has taken the right decision, but because of the protest we've got to talk, and mediation is the only way forward.
"It's not a nice situation, and I feel really sorry for the affected residents."
A previous town council administration agreed a revamp of the play area in 2014.