'Audacious' theft of 1,500 geese from land near Norwich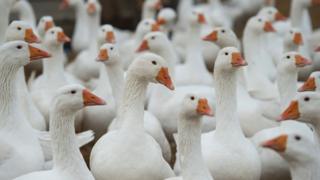 Geese thought to be worth up to £100,000 have been stolen in what has been described as an "audacious theft".
Norfolk Police said about 1,500 birds were stolen from land near Norwich between 03:00 and 08:00 GMT on Sunday.
Officers have appealed to anyone who saw anything suspicious in the Bawburgh area, just west of Norwich, to come forward.
John Newton, National Farmers Union county adviser, said they were "clearly stolen to order".
For more on this story and other Norfolk news
He said: "They're not the kind of numbers you could sell down your local pub."
Mr Newton said the birds could be worth up to £100,000 in value and described the crime as "audacious".
He said usually if birds are stolen in the lead-up to Christmas, it is "a small handful".