Ben and Tom Youngs join RNLI Sheringham as honorary members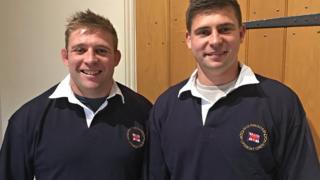 England rugby union stars Tom and Ben Youngs have been made honorary members of a lifeboat crew.
The brothers, who play for Leicester Tigers, grew up in Norfolk and regularly visited Sheringham beach.
They are the first people to be made honorary members of the RNLI Sheringham Lifeboat crew.
Branch chairman Phil Hawes said the Youngs were "dedicated team players who thrive in tough conditions" and "tremendous role models".
'Mentally tough environment'
Ben, 28, a scrum-half, was part of the England team which beat Argentina 21-8 on Saturday.
Older brother Tom, 30, is the Tigers' hooker and captain and has also played for England.
Mr Hawes said the brothers had "grown into exceptional men who through their sport display brilliantly all the qualities we look for in our lifeboat crew".
He described them as "hard-working team players who daily strive to be the best in a physically and mentally tough environment".