Dereham deputy mayor guilty of 'head-butting' former partner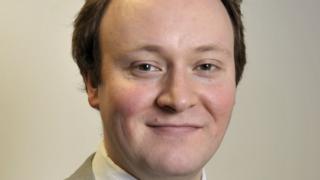 A deputy mayor who campaigned against domestic violence has been found guilty of assaulting his ex-girlfriend.
Thomas Monument, 36, who is the Conservative deputy mayor of Dereham and a Breckland district councillor, was at Norwich Magistrates' Court to deny the charge of assault by beating.
The court heard Monument "punched and head-butted" his former partner at her Norwich home on 11 September.
He was given 80 hours of community service and a restraining order.
Magistrates also ordered the Dereham town councillor to pay £485 in costs.
Monument told the court he had been pushed and shoved in an attack which "left him fearing for his life".
A forensic specialist said the injuries sustained by his former partner could have been caused by a blunt object including a head-butt or punch to the face.
Monument, of Greenfields Road, Dereham, was part of Breckland Council's "say no to domestic abuse" campaign in November.
He temporarily changed his Facebook profile photo on 24 November to show his support of the white ribbon campaign, which opposes violence against women.