Sheringham's Splash to be replaced with £10m centre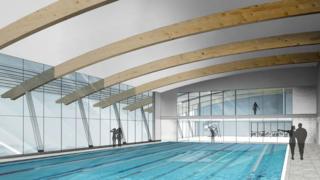 A £10m investment to replace a swimming pool opened by Diana, Princess of Wales, has been approved.
North Norfolk District Council's cabinet agreed the funding for the new leisure and fitness centre to replace Splash in Sheringham.
The current facility was opened in May 1988, complete with a beach-style pool and wave machine.
Council leader Tom FitzPatrick said the council's plans to replace the "ageing" pool were "ambitious".
The council plans to sell part of the three-acre site for a hotel development to help pay for the new sports centre.
It will also seek a £1m grant from Sport England, will use £4m from capital reserves and borrow a further £4.9m.
However, the new-look pool will not mirror the beach-style of its predecessor.
It will be a a six-lane 25m pool with a learner pool. There will also be a gym and fitness studio at the new centre.
Mr Fitzpatrick said: "To get Sport England funding it has to be a traditional swimming pool, not a leisure pool with waves and other options.
"It would be nice to have those, but when local government is facing a funding cutback, we're looking to replace that facility and it's pretty ambitious what we're doing."
The council said the current pool, which will be demolished, cost £150,000 a year to run.
Councillors also approved funding for a new £2.6m north Norfolk community sports hub, which will be based at the Cromer Academy and the town's tennis club.
Both plans will go to full council in two weeks for the funding to be agreed.