Winterton-on-Sea: Visitor warning over 'dangerous' sand bank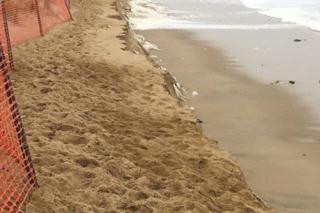 Visitors to a beach on the Norfolk coast popular with seal spotters have been warned that parts of it may be dangerous to walk on.
The tide has created a sand bank with a two-metre drop outside the Dunes Cafe at Winterton-on-Sea, according to the village's Facebook page.
It says people should avoid walking on the bank, which is covering concrete tank traps.
However, it also states that the cafe, car park and main beach remain open.
A contributor says: "It is highly dangerous to walk along the 'ledge' in front of the orange netting. There are tons of concrete tank traps that are covered in sand at the moment.
"People are advised to turn right and head south towards Hemsby - that section of the beach is not so badly affected."
The coastguard has been contacted for comment.