Norwich rape trial: Man 'attacked four women in three hours'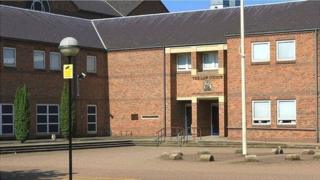 A woman was raped multiple times by a man who also sexually assaulted three other women in the space of three hours, a court has heard.
The victim was on her way to work when she described being dragged into an alleyway in Norwich by a man and raped.
Norwich Crown Court was also told how earlier another woman was sexually assaulted en route to the rail station.
Jake Killick, 23, has denied 16 counts of rape, false imprisonment and robbery against five women.
Mr Killick, of no fixed address, is accused of carrying out sexual assaults against four women in Norwich between 04:40 BST and 08:00 BST on 30 March 2017 and a separate rape in Thetford two months earlier.
One of the four Norwich victims was raped several times, the court was told, and her police interview was shown to the jury.
The 18-year-old said she was on her way to work at about 06:15 BST and was walking near Chapelfield Gardens when she was grabbed by a man.
The court heard the man said, "Don't struggle" before raping her, adding: "If you keep screaming I will hurt you."
She was then forced to walk a short distance to Ten Bell Court and further raped near garages and against the front door of a flat.
The woman escaped after the resident of the flat opened the door.
Screamed loudly
Evidence was also given by a regular commuter to London who described being sexually assaulted at about 04:45 BST in Riverside Road.
The victim said a man tried to drag her up St Matthews Road but she clung on to the road sign.
She said during that time the man had his hand up her skirt, groping her.
The woman, who said she did not look at her attacker's face, described being terrified.
"The thought I had was 'I'm going to be raped'," she said, adding she then screamed loudly.
The man let go of her and she escaped.
But the defence barrister said the police "got it wrong" and it was not Mr Killick who had attacked the commuter.
The trial continues.