Norwich plan includes hotel and offices to create 355 jobs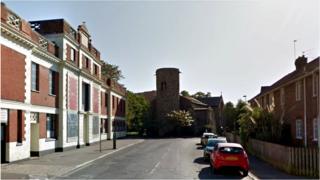 A Labour council has been accused of tearing up its own planning guidelines by approving an £80m new homes scheme.
The St Mary's project in Norwich is for 151 new homes, offices and a hotel, but only four affordable one-bedroom flats.
Under the city council's own housing policy 51 of them could be built. The Green Party said the council had now "torn up its own policy guide".
The Labour-run council said it had had to weigh up the need for regeneration at the site.
Developers Our.place said 355 permanent jobs would be created at a hotel and in offices which would also be built.
The Green Party said the council appeared "to have torn up its own internal planning guidance on affordable homes".
Green Party councillor Simeon Jackson said: "A small amount of affordable homes provision on projects like St Mary's appears to go against what are seen as Labour values."
The Labour council's planning document said: "Whilst it is disappointing that only a low level of affordable housing can be provided, this needs to be weighed up against the wider regeneration of this site.
"Development on the scale proposed will: benefit the construction industry; new businesses and the creation of jobs."
The site was once a major shoe factory and now houses a gym and several businesses.
Dominic Richards, chief placemaker at Our.place, said his company had worked with the city council and the local community who decided the priorities were regeneration and jobs.
"Norwich is fortunate to be doing well on affordable housing so we concentrated on mixed use for the site and surrounding area while creating space for new businesses and jobs," he said.
"We will be assessing the project as it proceeds and there may be more affordable homes built."