Norwich 'sexual predator's' DNA 'found on victim'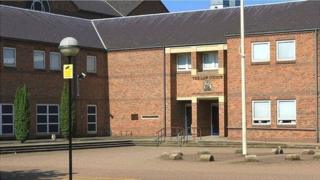 DNA from a man accused of being a "marauding sexual predator" was found on his alleged rape victim, a jury has heard.
Jake Killick, 23, is said to have sexually assaulted three women and raped a teenager in the space of three hours in Norwich on 30 March.
Norwich Crown Court heard his sperm was found within the victim's body, pointing to sex taking place.
Mr Killick denies 16 charges including rape, sexual assault and robbery.
'Blow up station'
The jury has previously heard he repeatedly raped the 18-year-old woman after grabbing her near Chapelfield Gardens at 06:00 BST.
The defendant is said to have raped her first in an alleyway, then outside a block of flats in Ten Bell Court, threatening to kill her several times during the ordeal.
The court heard her DNA was also found on a wallet Mr Killick is alleged to have stolen.
The jury was told the attacks began at 04:20 BST on Riverside Road, when the accused is said to have tried to drag a woman into a side street, sexually assaulting her in the process.
He is accused of going on to assault a 16-year-old student in the St Stephens Road underpass but she fought back, taking pictures of him on her phone before escaping.
The court heard he was arrested at Norwich railway station on the same day, after buying a train ticket to Thetford.
He seemed "spaced out" and claimed he had been begging all night.
PC Cormac Harrison, in a statement read to the court, said Mr Killick was "agitated" and told him "I could stab you bruv" and "I will snap your neck".
PC Harrison also said the accused later told officers he "would love the opportunity to blow up a police station".
Mr Killick, of no fixed address, is also alleged to have raped a woman in Thetford in January.
The trial continues.