TV presenter Jake Humphrey makes '4x4' snow help offer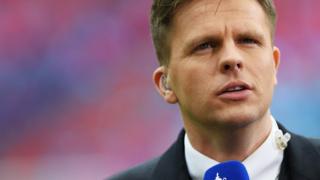 A TV presenter found himself deluged with messages after posting an offer on social media to help "vulnerable" people using his 4x4.
Jake Humphrey said on Twitter he was happy to assist anyone "who may need a visit or even a bit of shopping doing".
But while some users praised him for the gesture, it was met with ridicule by many, with some comparing him to fictional Norwich DJ Alan Partridge.
Others requested he run errands such as fetching biscuits to dunk in their tea.
Twitter users called him the "real life Alan Partridge" and made references to the character, who lived in a roadside hotel and bragged about his car.
One comment asked: "Is your 4x4 a Lexus? I call them the Japanese Mercedes." Another said: "My friend Alan Can't get his Rover out, he's stuck at the Linton Travel Tavern near you."
Among those replying was former Liverpool and England footballer Jamie Carragher, who told Humphrey the fact he has a 4x4 "probably shows how well you're doing".
But there was also plenty of praise for the "thoughtful" and "lovely" gesture from the Twitter community. He was called a "star" and a "credit to Norwich and Norfolk".
The post was quickly retweeted nearly 1,000 times and soon after Humphrey posted a photograph showing him "mid rescue" as he helped another motorist.
The 39-year-old lives in Norfolk and presented BBC Sport's coverage of Formula 1 until 2012 when he joined BT Sport to front its football coverage.