Norfolk and Suffolk Foundation Trust: New chief executive appointed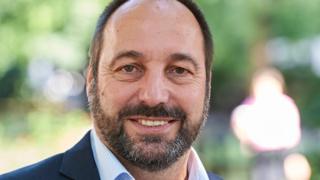 A new chief executive has been appointed to lead a "failing" mental health trust, which was put in special measures last year.
Antek Lejk will take up the post at the Norfolk & Suffolk Foundation Trust (NSFT) in the spring.
His predecessor Michael Scott announced his retirement in September just before a critical Care Quality Commission (CQC) report.
Mr Lejk has previously been chief executive of two NHS trusts.
NSFT chairman, Gary Page, said: "Our Board is delighted to have someone of Antek's calibre and evident experience, join us. He is a leader who commands great respect from the people who work with him."
Mr Lejk said: "I am excited and proud to be asked to help lead NSFT. I am especially looking forward to meeting service users, carers and staff.
"I have always had a particular interest and passion for mental health. I am keen to help NSFT move on from its current difficulties and emerge a stronger, even better organisation serving the people of Norfolk and Suffolk."
The CQC report said the board of the NSFT had failed to ensure "unsafe environments were made safe".