Officer hurt as van drives through Fakenham fire cordon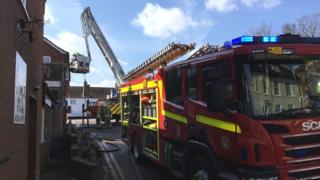 A police officer was hurt when a van drove through a cordon set up as firefighters dealt with a blaze at a chip shop.
The officer had to jump aside as the van went through the barrier around Mr Chips in Bridge Street, Fakenham, Norfolk, at 11:10 GMT.
A man has been arrested on suspicion of assaulting a police officer, dangerous driving and failing to stop.
More than 30 firefighters were called to deal with the blaze at its height.
The officer was left with minor injuries.
The suspect, in his 50s, was arrested at 12:15 GMT, an hour before the fire was put out.
Shop owner Sinan Aygun, who lives above the business, said pans in his fryer caught fire after the cooking range was steam-cleaned earlier in the morning.
"It spread really quickly and there was nothing we could do," he said.
"Hopefully, we will be back up and running soon."
'Serious' blaze
Incident commander Bob Ayres, of Norfolk Fire Rescue and Service, said the first crews on the scene were met by "thick black smoke" .
"By the time I arrived, smoke was coming out of the windows and roof, so clearly it was a very serious fire," he said.
"There is quite considerable damage downstairs."
He said a fire investigation into the cause was under way.