James Paget Hospital pulls out of hospice plan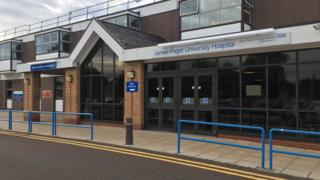 A hospital has pulled out of an appeal to build a 10-bed hospice on its grounds in Gorleston.
The James Paget Hospital said it could not support the Louise Hamilton Trust's (LHT) plans for the hospice as it was unlikely to be funded by the NHS in future.
The hospital said it would continue to provide patients with palliative care.
Roberta Lovick, of the LHT, said she was "devastated at the U-turn" by the hospital.
She added: "It is short-sighted. I believe these beds are necessary. They are needed. This is what the public wants."
Jennifer Beesley, who chairs the East Coast Hospice, which has its own plans to build a hospice in Gorleston, said the money raised by the Louise Hamilton Trust should now be passed to them.
'Not best practice'
"My concern is that the money that has been given, has been given to charity by people thinking this (hospice) was going to happen," she said.
Melanie Craig, chief officer of the Great Yarmouth and Waveney Clinical Commissioning Group, said an acute hospital was not the place to treat terminally-ill patients.
"I am very much in support of what the James Paget Hospital have said," said Ms Craig.
"It is not best practice to have these beds on a hospital site.
"In fact people going in to die at the end of life in a hospital is not what anyone would want because often its in an emergency situation which is very traumatic for families and carers."