Babe-in-arms photo recreated for retiring Norfolk sergeant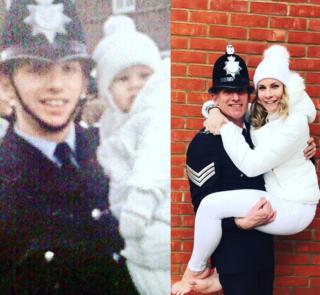 A police sergeant's daughter has recreated a much-loved family photograph to mark her father's retirement.
Pictured in the arms of her dad at his passing out parade, Lucy Hudson decided to recreate that moment again.
So at the retirement party on Saturday, she turned up in a "similar" outfit and together with her dad, Sgt Terry Stevens, they posed for the new photo.
"We were laughing so much it took five or six attempts to get the picture."
Lucy Hudson, who lives in Attleborough, Norfolk, is now married and 30 years old.
Apparently the photo was not a total surprise, but Mrs Hudson said her father "didn't actually think I'd go through with it".
"We're really proud of him and he's had to carry out duties in lots of difficult situations over the years" she said.
You may also like:
Sgt Stevens, from Wymondham, was wearing his original helmet and tunic for the recreated photo.
"There've been no side effects from picking Lucy up, she's not as heavy as she looks," he said.
The sergeant is married with two children and officially retires next month after 30 years service with Norfolk police, which included stints as a firearms officer at Sandringham for the Royal family.
He spent most of his working life as an officer in Norwich and the last few years as a custody sergeant at Norfolk Police headquarters in Wymondham.
He said he was looking forward to having more time to spend with his family.