Black-tailed godwit returns to Welney after migration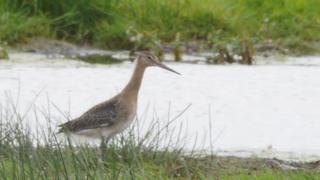 A rare bird that was released into the wild after being hand-reared in the Fens has returned from its winter migration, wildlife experts have said.
The black-tailed godwit was one of 26 raised at the Wildfowl and Wetlands Trust (WWT) in Welney, Norfolk.
They were released last summer and migrated as far as Portugal for winter.
Conservationists said the sighting was a "wonderful and welcome surprise", as the birds were not expected to return from their wintering grounds this year.
Their release was part of Project Godwit, a partnership between the Royal Society for the Protection of Birds (RSPB) and the WWT, and aimed to increase the population of black-tailed godwits in the UK.
The wading birds were hatched in captivity and hand-reared by wildlife experts from the charities to protect them from predators.
'Hope for the future'
The returning male is the first of the group to return to the Fens and has been named Delph after the river bank where it was sighted.
Black-tailed godwits are listed under a "red" conservation status by the RSPB, meaning they are among the highest conservation priorities.
Hannah Ward, RSPB Project Godwit manager, said: "We weren't necessarily expecting any of the hand-reared birds to return this summer so this is a wonderful and welcome surprise.
"We may have to wait until next summer before this young bird breeds, but this is a fantastic moment for the Project Godwit team and great news for this magnificent but threatened species."
Project Godwit expert at WWT, Louise Clewley, who made the discovery, said: "Migration is fraught with danger and the successful return of the first of our UK hand-reared batch gives us hope for the future of these birds."
Besides the bird that returned to Welney, officials said one bird had been sighted at a breeding ground in Belgium, while four others remained in Portugal.