New Norwich bypass link to A47 to go to consultation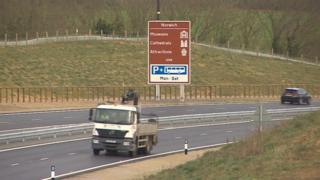 People's views on the possibility of linking a newly-opened dual carriageway with the A47 are to be sought by a council.
The public will be asked if the £205m Northern Distributor Road - now called the Broadland Northway - should join the trunk road west of Norwich.
The Broadland Northway, which bypasses the north of the city, already meets the A47 at Postwick to the east.
Norfolk County Council will start the Western Link consultation next week.
Currently, there is no link between the A1067 Fakenham Road and further along the A47.
A number of options to tackle transport issues in the area will be suggested in the consultation.
Local MPs Keith Simpson and Chloe Smith, along with local businesses, have backed the proposal.
However, the Norfolk branch of the Campaign to Protect Rural England (CPRE) has been among those to raise concerns over the loss of countryside.