Norfolk Police chief says cars being used as ambulances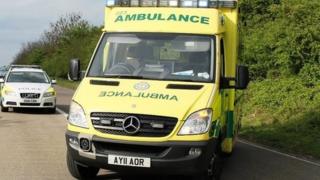 Police cars are used as ambulances when none are available to take people to hospital, it has been revealed.
Norfolk Police cars were used 43 times from December to March when no East of England Ambulance Service Trust (EEAST) vehicles were able to assist.
Police Chief Constable Simon Bailey said officers were being used to make up for ambulance service "failings".
EEAST said the trust responded to more than 300,000 emergency calls during that period.
A spokesman added: "National evidence shows that one in 10 calls made by police to ambulance services result in people being taken to a hospital.
"We recognise our police colleagues may assist us with taking patients to hospital in a very small number of instances, and this is why we work with our blue light partners to drive down demand."
The figures were obtained after a Freedom of Information request by North Norfolk MP Norman Lamb.
The Liberal Democrat MP said in February that up to 81 deaths and 120 serious incidents were associated with delays faced by EEAST.
The trust previously said 40 incidents were being reviewed, including the case of a man who was found dead outside his former Suffolk home in freezing conditions.
Reacting to the use of police cars, Mr Lamb said it was "not acceptable that officers are being diverted from vital work because they are having to plug gaps in a struggling health service".
Chief Constable Bailey said the incidents where police vehicles were used typically involved mental health patients or victims of domestic violence.
He said: "Chief constables across the whole east region have been liaising with the ambulance service to turn around and say 'this is not acceptable'. Police officers should not be being used for failings within the ambulance service.
"The bottom line is we can't let patients suffer, we won't let people suffer. We are the service of last resort so we're always going to step in, but we have to try to solve this problem."