Coroner writes to council over girl's Wootton death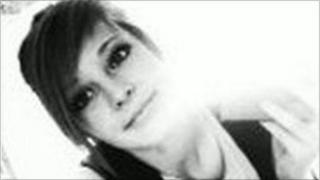 A coroner has said she will write to the local authority about the lack of warning signs on a Northamptonshire road where a teenager was killed.
Sophie Bywaters, 13, died near Wootton last October when she was hit by a van as she tried to cross the A45.
A verdict of accidental death was recorded at an inquest into her death.
The coroner Anne Pember said she would write to the county council after hearing concerns about a lack of signs on the road where Sophie had crossed.
She had used a bridle way that crosses the busy dual carriageway after going to a youth club on 13 October 2009.
She had shared a bicycle on her way home to East Hunsbury and at about 2045 BST she got off and crossed the A45 into the path of a white van travelling at about 70mph.
She suffered fatal injuries and died at the scene.
Footbridge demand
An accident investigator told the inquest there was nothing the driver could have done to avoid Sophie.
The inquest heard it appeared that Sophie had failed to look for traffic before she set off across the dual carriageway.
Her family asked why there were no signs warning that pedestrians may be crossing.
On hearing of Sophie's death Gemma Whitlock, who was seriously injured at the same spot in 1987 when she was eight, started a petition campaigning for a footbridge over the dual carriageway.
The petition, which has more than 2,000 signatures demanding a footbridge on the road, was given to MP Brian Binley last November.
He said then he would hand it over to the Highways Agency.