Pedal factor in fatal Silverstone contest plane crash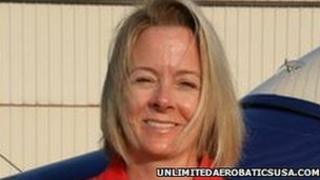 A rudder pedal extension was a contributing factor in a plane crash which killed an aerobatics pilot in Northamptonshire, an inquest has found.
American Vicki Cruse, 41, died on impact when her plane nose-dived and fell 2,300ft (701m) in August 2009.
She was competing in the 25th World Aerobatic Championships.
The inquest jury returned a narrative verdict, adding that the left rudder could not be fully removed in order to recover from an aerobatic manoeuvre.
Miss Cruse, a former US aerobatic champion, was among 62 pilots from around the world competing in the event at Silverstone on 22 August.
In a statement read out at High Wycombe magistrates' court, the jury concluded: "Vicki Cruse, a highly experienced aerobatic competitor, while taking part in the FA1 World Aerobatic Championships, failed to recover from a downward snap roll manoeuvre, resulting in her plane crashing to the ground, leading to immediate death as the result of severe multiple injuries.
"Based on the evidence given to the jury, it is our belief that the deceased's rudder pedal extensions, installed on her instruction, caused a restriction to the left pedal such that the left rudder could not be fully removed once applied in order to recover from the manoeuvre.
"We believe this was a significant contributing factor in this fatal accident."