Unseen photos of Hitler to be sold at Towcester auction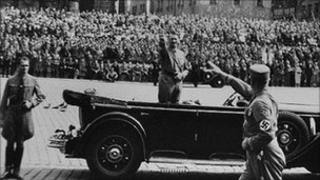 Photographs taken by Nazi leader Adolf Hitler's personal photographer Heinrich Hoffmann, which have never been seen before, have been unveiled.
The collection of hundreds of photos, which were taken before World War II, includes pictures of Hitler at a rally in Nuremburg in 1934.
The photos will go on sale at JP Humbert Auctioneers at Towcester, Northamptonshire, on 18 January.
There are also images of Italian fascist leader Benito Mussolini.
'Propaganda machine'
Auctioneer Jonathan Humbert said: "We've got somewhere around 800 negatives and maybe 600 stills, some from these negatives and other stills that don't have a negative that they were developed from," he said.
"They were all taken by Hitler's personal photographer Heinrich Hoffmann, who was part of the Nazi propaganda machine."
There are also photographs of Paul von Hindenburg, president from 1925 until his death in 1934, when Hitler took over as head of state.
"There are also images of a meeting with Mussolini in Munich and the winter and summmer Olympics of 1936 and also more sinister images of Hitler attending an SS officers training school," Mr Humbert said.
"They are absolutely fresh to the market, they are privately entered by a gentleman who was left them by another elderly gentleman who I understand used to live in Germany."
Hoffmann, who worked as a photographer in Munich from 1908, joined the Nazi Party in 1920.
He was arrested by the Americans in May 1945 and after the war was tried and sentenced to four years for Nazi profiteering.