Pufferfish toxin 'probably' killed Northamptonshire man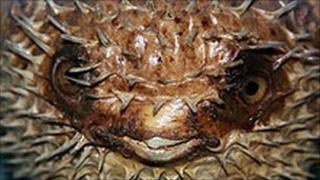 An ex-paratrooper from Northamptonshire who died in Sierra Leone was probably killed by poison from a pufferfish, an inquest heard.
Coroner Anne Pember recorded an open verdict but said she could not rule out "suspicious circumstances".
David Hughes, 48, wanted to set up a biodiesel plant in the west African country.
The Kettering inquest heard Mr Hughes had gone to Africa to resolve problems with a business associate.
After arranging for the man, also a former paratrooper, to return to the UK, the father-of-two, from Islip in Northamptonshire, fell ill and died within days.
'Strange spot'
Low levels of Tetrodotoxin (TTX) - the toxin in pufferfish - were later found in his body, and this could only have happened if he ingested the poison as the fish itself has no toxic spikes or spines.
Mrs Pember said although she could not rule out suspicious circumstances in Mr Hughes's death, she had to record an open verdict.
She said: "On a balance of probabilities, it is likely that Mr Hughes died of pufferfish poisoning.
"But in order to return a verdict that he was unlawfully killed, I have to be sure sure beyond a reasonable doubt that someone did an unlawful act.
"In these cases I sometimes say I am satisfied there are no suspicious circumstances but that is not something I can say today."
The inquest heard 48-year-old Mr Hughes was a paratrooper for 22 years and served in the Falklands War.
A statement from his father Brian Hughes, read by the coroner, said he was also made an MBE for an act of bravery in Northern Ireland.
After leaving the forces in 2001, Mr Hughes later became involved in trying to set up a business in Sierra Leone to convert palm oil into biodiesel, with help from ex-paratrooper Sheku Lansana.
In May 2009, Mr Hughes heard Mr Lansana was spending money to buy equipment and machinery on drink, the inquest was told.
He went to Sierra Leone and Mr Lansana agreed to "sort himself out".
Mr Hughes later told family via text message that a strange spot had appeared on his head.
Specialist laboratory
On 5 June 2009, he was taken to the Holy Spirit Hospital in Masuba where he died two days later.
Det Insp Nick Gray, from Northamptonshire Police, who led an investigation into Mr Hughes's death, said they could not find any evidence to say exactly how he had died.
He and other officers spent three weeks in Sierra Leone where they came to a conclusion Mr Hughes's colleague Daniel Lansana, Sheku Lansana's brother, was not a reliable witness.
But there was no evidence to prove he was involved in Mr Hughes's death.
"Although we conducted extensive inquiries both here and in Sierra Leone, unfortunately we were unable to establish how or by what circumstances the TTX came to be in David's system or the timing of it."
The inquest heard Mr Hughes was in general good health, though allergic to aspirin and penicillin.
Samples were sent to a specialist laboratory in Japan who found pufferfish toxins below lethal levels.
The report said these could have fallen while Mr Hughes was in hospital and between his death, embalming and return to the UK.