Contractor for custody suite plan in Northampton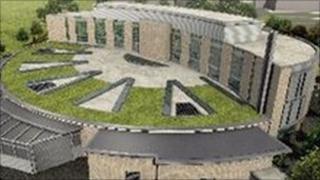 A building contractor has been appointed to build the new Criminal Justice Centre in Northampton.
Local contractor Kier Marriott has been chosen to build the 50-cell custody suite and offices for police at Northampton Business Park, Brackmills.
It will replace existing cell facilities and will serve Northampton and the south of the county.
Work will start in spring 2011 and it is expected that the centre will be completed by mid 2012.
Planning consent was given in November 2009 by the West Northamptonshire Development Corporation.
The new centre will provide upgraded custody facilities for Northampton, Daventry and South Northamptonshire, as well additional office space.
Northampton Police Chief Constable Adrian Lee said: "We are looking forward to working with Kier Marriott on this high profile project, which will provide the upgraded custody facilities that are urgently needed."
A police spokesman said the force's existing custody facilities were too small and outdated and did not meet either Home Office requirements or the standards expected by the Health and Safety Executive.