Daventry boy with cancer makes TV chef appearance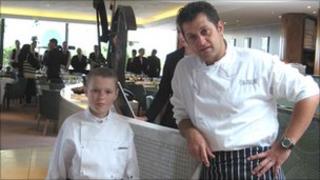 A Northamptonshire boy with cancer has lived his dream of being a television chef with the help of a children's charity.
James Nicoll, 10, was diagnosed with acute lymphoblastic leukaemia in 2010.
His experience of cooking in a London restaurant with chef Mickael Weiss will be screened on Channel 5's Starlight: For the Children programme at 1930 GMT.
"It was really fun, I got to cook some really nice food like venison and mackerel," said James, from Daventry.
Children's charity Starlight grants once-in-a-lifetime wishes to seriously and terminally ill children. It organised for James to spend the day with Mr Weiss.
'Absolute rock'
The whole family was chauffeured in a limousine to top London restaurant Coq d'Argent.
James was given the chance to be a part of the kitchen during the busy lunch period, where he took on some difficult tasks.
Acute lymphoblastic leukaemia is a cancer which destroys the blast cells in the blood which develop to become part of the immune system or oxygen carriers.
James's father David said: "James has been an absolute rock for all of us because he's just so cheerful.
"The treatment has been very intensive and uncomfortable but he's coped with it very well."