Robotic dog from Northampton to appear at Crufts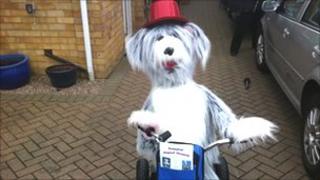 A robotic dog from Northampton will be entertaining people at Crufts.
Sheridan the sheep dog has been invited to the world's biggest dog show to display his talent whilst riding a tricycle.
Owner Bruce Grantham from Abington Vale, Northampton, said: "I've been involved with dogs for a while, but wanted to do something different."
Bruce designed the dog and then contacted a robotic company in Colorado, US, to build it for him.
"I contacted the company, we mapped something out and this is what we came up with," he said.
Sheridan will join the Tricky Tykes Terrier Racing Display Team in the main Arena at Crufts.
The creation has previously been used to raise money for charity in the county including Macmillan Cancer Research.
"We started doing some charity dog shows around Northamptonshire and he has become quite a celebrity," said Mr Grantham.