Final phase of Northampton Moorings under way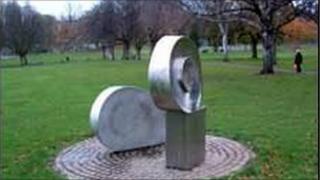 Construction is under way on the final phase of a new marina in Northampton.
A manager's office, reception and service building for boaters is being built ahead of Northampton Moorings opening in Becket's Park in April.
It will offer 74 moorings for leisure craft and visitors and six for residential use on the River Nene.
Trini Crake, Northampton Borough Council's cabinet member for environment, said the town's waterfront had been transformed.
"It has been fascinating to see the moorings take shape," she added.
"We started with an under-used piece and in just a few months created something interesting and exciting.
"I think we are now beginning to realise what a wonderful asset the Nene is to local residents and the boating community."
Sue Cant, Environment Agency (EA) Nene Waterways team leader, said: "The moorings in Becket's Park are helping to encourage people back to the river and boaters are already booking spaces.
"This new hub will encourage the people of Northampton, and visitors to the town, to see the waterfront as an attractive and appealing destination."
The EA is constructing Northampton Moorings on behalf of the Becket's Park Partnership, made up of the EA, borough and county councils, River Nene Regional Park, Northamptonshire Enterprise Limited and West Northamptonshire Development Corporation.