Wheelchair football team to be set up in Northampton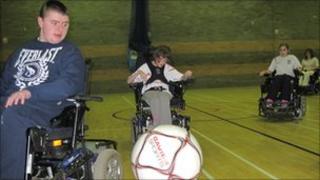 A new wheelchair football team is to be set up in Northampton.
The Northampton Town Multi-Disabled Football Club is working with partners to applying for funding for the new club.
"If the funding comes through then we are looking to start it up as soon as possible," said Shaun Waite, from Northamptonshire Football Association.
The team is being formed following a county wheelchair football festival held in Kettering earlier this year.
National games
Taylor James, from Northampton, was born with cerebral palsy and uses a wheelchair.
"People think being in a wheelchair means you can't do anything, but this new team proves we can," she said.
Miss James played in the football festival and was asked to play at the national games in Nottingham.
"It was nice to be asked, I get to play with great people on my team. It's a shame that we have to go out of Northampton to play football," she said.
It was after the football festival that people came forward to form a new team.
"They love the game, but the provision isn't currently there for them in Northampton, so making sure this can happen is really important to these guys," said Mr Waite.