New NHS urgent care centre for Corby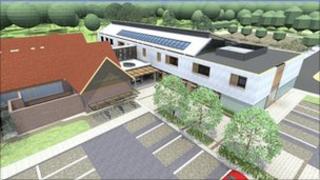 A new NHS Urgent Care Centre is set to open in Corby, Northamptonshire.
The new centre will offer a GP out of hours service, minor injuries treatment and an x-ray department at the Willowbrook Health Complex.
Plans for the centre have been given the go ahead by the NHS Northamptonshire Trust Board. Building work will start in May.
The centre, which is due to open in February 2012, will operate between 0800 and 2000 BST.
Professor John Parkes, chief executive of NHS Northamptonshire, said approval of the plans for the care centre are an "excellent beginning to our plans to increase the range of services available closer to home for people in Corby".