Street party in Wellingborough to mark end of works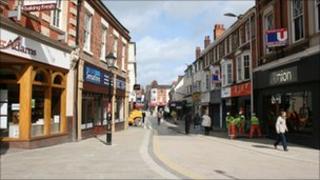 A large street party is to be held in Northamptonshire to celebrate the end of a town's improvement works.
For over a year, Market Street in Wellingborough, has been resurfaced and had the pavements widened.
To mark the end of disruptions on the street a completion party for the town is being held on 2 April.
Jennifer Bell from Wellingborough Council said: "Work along Market Street has no doubt been an inconvenience, so we're looking forward to the party."
Whilst the work was taking place there was no vehicle access along Market Street.
Sue Bailey, the manager of the Colemans store on Market Street, said: "Foot fall was down as soon as the work started.
"It really caused us to struggle with business, so now the street is opening we hope our takings begin to grow."
The party will take place along Market Street and in Croyland Gardens, where a new play area just been completed.
"It will be a proper family event, with lots of entertainment and plenty for everyone to enjoy," said Ms Bell.
The party, organised by Wellingborough Borough Council and the Town Centre Partnership hopes to bring the community back together.
"I hope that as the area is more attractive and pedestrian-friendly, people will take the opportunity to discover, or rediscover the town," said Ms Bell.
The event is free and will feature magicians, face painting, an Easter egg hunt and street entertainment.