Welton patrols help toads in road trek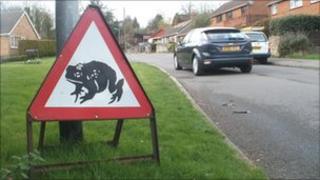 Residents of a Northamptonshire village have set up patrols to help toads cross the road as part of their once-a-decade breeding trek.
Toads cross the main road in Welton, near Daventry, in large numbers on their way to a nearby lake to spawn.
A group of villagers, led by Jeanette Mortimore, scoop up the creatures in buckets to stop them being run over.
"People tell me where they've spotted a toad, or they pick them up in a black bucket and give them to me," she said.
'Very co-operative'
The patrols take place from three to five weeks in spring every 10 years.
Red triangle roadsigns showing pictures of toads are set up at strategic points to remind drivers to be aware of the toads.
"The villagers are very co-operative, people see the road signs and slow down," said Mrs Mortimore.
The migration in large numbers seems to happen once every 10 years but Mrs Mortimore said she had noticed a decrease in numbers.
So far, the group has only collected a total of 244 toads in three weeks.
"The last big year in 2001, we collected 1,259 in one night," said Mrs Mortimore.