Cultural Olympiad inspires Northamptonshire photography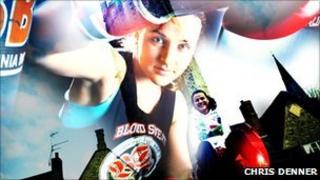 A photography project with schools in Northamptonshire has been launched as part of the Cultural Olympiad.
The Clix project encourages people to produce images exploring London 2012 themes from a local perspective.
"It's very rewarding to see the young people engage in such an exciting and dynamic venture," said Chris Denner who is leading the project.
The images will be available to view on a dedicated website throughout 2011 and the best ones made into a calendar.
'Thought provoking'
The project has already included a photo-shoot with 19-year-old Chantelle Cameron, a kick boxer from Northampton, as well as workshops with students from Kingsbrook School.
"It's great to see the passion and creativity that's being applied to the young people's photography," said Mr Denner.
"Every day I'm consistently being impressed not only by the quality of the images, but by the thought provoking messages I'm seeing in every photograph."
The Cultural Olympiad is designed to give everyone in the UK a chance to be part of London 2012 and inspire creativity across all forms of culture.
The project is looking for more photographic submissions using county landmarks and sporting teams.