BBC Introducing goes live at Northampton Music Festival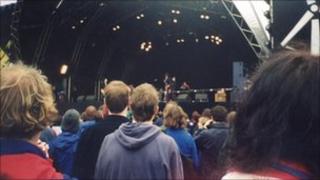 BBC Introducing will unveil a new live stage event at the Northampton Music Festival.
The event in June will see unsigned hip hop, dance and rock artists collaborating for the festival at Northampton's Roadmender.
A live mash-up of genres and emerging talent will feature on 12 June.
The line up has been selected from acts discovered by BBC Introducing over the past year, and currently stands as follows with more to be announced:
Statik - Up and coming hip hop/grime MC.
Decibels - electro-indie to get your feet moving!
Champagne Bubblee - MC with a massive following on the brink of making it big with his Beggarz Belief crew.
The Francis Jetty - local stalwarts of the music scene who've been gathering apace with their raucous rock'n'soul.
Ill Murk - Formerly a member of Jah Troopers, Ill Murk is going strong as a solo artist in his own right.
He has been played on MistaJam on Radio 1, 1Xtra and with support from BBC Introducing across the board - he's the county's best chance for hip hop stardom!
Code500 - One of the newest bands on the Northamptonshire scene, these guys have come from traditional indie rock'n'roll to a more progressive, experimental sound.
The Organised Rhyme Family - local legends with the all the hallmarks of true hip hop greats - watch out for new material, they add serious kudos to the Collaborations line up.
Preparation for the event will feature on the show on BBC Radio Northampton on Fridays at 1800 GMT.