Kettering Chamber of Trade appoints a new town crier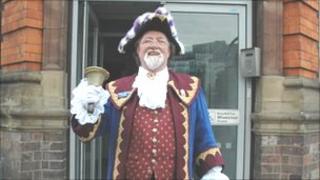 Kettering Chamber has appointed Horace Handley as its new town crier.
Mr Handley from Northampton said: "I'm really over the moon and am looking forward going around the town."
As well as announcing events in and around Kettering borough, Mr Handley will also spend time training other volunteers.
Neil Griffin from Kettering Chamber of Trade said: "We are pleased to have Horace. He is well spoken of in the town crying world."
Mr Handley, who used to be the town crier for Northampton, applied for the job after hearing about it on BBC Radio Northampton.
He held his previous role for 20 years but it ended in October due to budget cuts.
County councillor Larry Henson who took part in the selection process said: "We hope to get Horace to promote many events in the town."
The town crier's first official event was on Saturday 7 May 2011.
"It was just great seeing Horace in action. Many kids came over to have their pictures taken with the town crier," said Neil Griffin.