Tributes to murdered Northampton family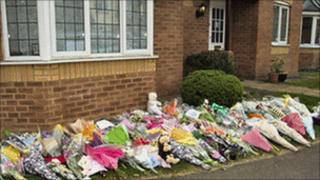 Neighbours of a family of four stabbed to death in their Northampton home have paid tribute to "a family with so much talent, and yet so much humility".
Jifeng Ding, his wife Helen Chui, and daughters Alice and Xing, were found in their Pioneer Close home on Sunday.
Police are still searching for suspect Anxiang Du, 52, from Coventry.
The residents of Pioneer Close said the victims were "long-standing friends and neighbours and were known to us all in different ways".
They said in a statement: "All of the Ding family were part of that network and will be sadly missed by us all in very many ways.
"They were active members of the Neighbourhood Watch and on a personal level, involved in the lives of many families on Simpson Manor over a number of years.
"Clearly we are all shocked and very deeply upset by recent events. The members of the Ding family and their friends, colleagues and fellow students are in our thoughts."
The tributes came as police retraced the last known movements of Mr Du, from leaving Birmingham to arriving close to the Ding family home.
On Thursday, police released new CCTV images showing Mr Du getting on a bus in Northampton at 1307 BST on Friday and at 1320 BST he is seen asking the driver if he had arrived at his destination near the Ding's family home in Wootton.
Det Supt Glyn Timmins said a letter Mr Du left to his family did not necessarily amount to a suicide note.
He made a nationwide appeal to people who work in ticket shops or who run hotels or bed and breakfasts to contact him.
He said his officers had spoken to the Chinese Embassy, but said there had been no trace of him going through passport control.
Police revealed earlier that Mr Du felt he was owed tens of thousands of pounds by Mrs Ding but lost a court battle over their shared business interests on 28 April.
Mr Timmins, who has more than 60 officers working on the case, said: "This inquiry might last days, months or years. We are not going to give up."