Domesday reloaded - an update from Northamptonshire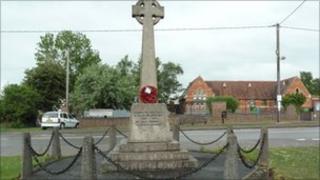 In 1986 the BBC launched an ambitious project to record a snapshot of everyday life in Britain.
Domesday Reloaded is the sequel to the original project and, for the first time, the project is being made available online.
You can explore, see the pictures, update the information and make your mark on our collective history.
A million volunteers took part 25 years ago, including many schools and local groups in Northamptonshire.
South East Northamptonshire
One area that took part in the project was located in the South East of the county.
Villages on the border with Bedfordshire, like Denton and Hackleton, explained all aspects of village life from the architecture to what youth groups did in the evenings.
Denton County Primary School was responsible for collecting most of this information in that area.
An eight year-old girl also got to explain what their typical day was like. "Before I go to school I play with the computer or I sometimes play games with my sister," he said.
Children's Games
The children also wrote about games they played in their break times at school.
There were the classic games like hopscotch and skipping, but it seems the children also adopted games from other areas like 'The Track Game.'
Looking back
The children in 2011 were asked what they thought life might have been like 25 years ago.
A few of them thought the technology was very different and that perhaps electrical appliances were not around.
Some of them even thought that electricity was not available then.
Looking back at the archives in 1986 the children reported that they spent their spare time differently to modern children.
One child said: "In the evening I go to Guides until 2100 GMT. When I get home I play records and watch television. After that my dad takes me to the chipshop to buy my supper."
In 2011, perhaps not surprisingly, all the children said they played computer games in their spare time, but some also went out and played with their friends. So some things have not changed.
Looking to the future
The modern children were asked what they think life might be like in 2036.
Environment and green issues were mentioned a lot. Some thought farm technology would be completely automated so farmers would need to do less.
For more information on how to get involved contact Domesday, email: domesday@bbc.co.uk