Northampton family murder inquiry focuses on London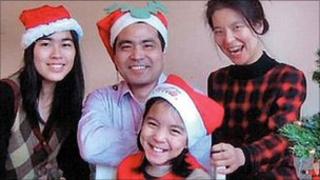 Police investigating the murders of a family of four in Northampton have said they are concentrating their inquiries on the London area.
Lecturer Jifeng Ding, his wife Helen and their two daughters Alice, 12, and Xing, 18, were found stabbed to death in Pioneer Close, in Wootton, on 1 May.
Businessman Anxiang Du, 52, is wanted in connection with their murders.
Police found a rented Vauxhall Corsa, missing from the Dings' home, in north-west London, last Wednesday.
Officers now believe Mr Du was spotted in the Corsa, at a service station at junction 15a of the M1, in London, on 29 April, between 2145 and 2215 BST.
A forensic examination of the car, discovered in Venables Street, off Edgware Road, in St John's Wood, has been completed and police are waiting for the results.
Police officers with specialist knowledge of the Chinese population are circulating leaflets.
CCTV footage
Det Supt Glyn Timmins, of the Northamptonshire force, said: "Officers have completed house-to-house enquiries in the area of North West London where the vehicle was located.
"We are working on trying to establish if it has been used and how long it had been there.
"We now have hundreds of hours of CCTV footage to trawl through.
"A team of officers has been allocated to sift through this footage methodically to see if they can identify sightings of our suspect Anxiang Du."
Mr Timmins appealed for anyone who may have seen the car or Mr Du since 29 April to contact the police or Crimestoppers.
He said the discovery of the car reinforced police theories Mr Du had not killed himself, that was suggested in a note found by his family, but was still on the run.
Mr Du, who lived in Coventry and worked at a herbal medicine shop in Birmingham, went missing a day after losing what has been described as a bitter court battle over his shared business interests with the Ding family.
He was reported missing by his own family after they discovered the note, in which Mr Du said "goodbye", at the shop where he worked.