Towcester mosaic of 1,000 images of town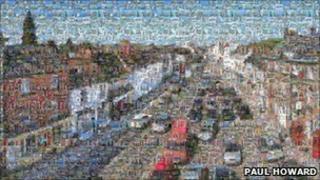 A man from Northamptonshire has created a mosaic of his high street using 1,000 individual photographs.
Paul Howard, from Towcester, spent two days taking photographs of the area and then merged them together to replicate the street scene.
He said: "I decided to take pictures around town because I wanted to create something unique.
"As far as I know no one has done this before."
Mr Howard has been taking pictures of Towcester for 28 years, since he gave up his job as a toolmaker.
He had to seek permission from the town council to take the panoramic shot of the street from their roof.
Towcester's mayor Martin Johns said: "It's quite interesting how you see individual pictures when you are close but when you stand back you see the whole High Street."
Mr Johns feels that the mosaic is good for the town.
"Any new take on showing the historic features is welcome. It could encourage people to take a fresh look at the town," he said.
A completed picture of the mosaic is on display at Colemans stationers in Towcester.