Council submits plan plan for 300 new homes in Daventry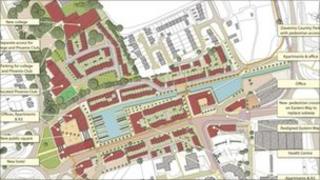 Up to 300 homes could be built as part of a scheme to help regenerate Daventry town centre.
A new college, a hotel, cafes, offices, healthcare facilities and a water feature are also part of the plan drawn up by Daventry District Council.
Local people are being invited to have their say on the designs.
It has applied to the West Northamptonshire Development Corporation (WNDC), the local planning authority.