Husband's 1948 torch relay honour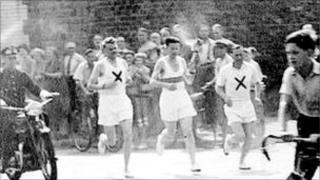 The widow of a man who took part in the Olympic torch relay of 1948 has been sharing her memories of her husband's achievement.
Lily Percival, from Thrapston, Northamptonshire, lived in London when her husband David was selected to accompany the torch.
"We had to clean his kit and make sure it was absolutely spotless," she said.
Mr Percival ran for Thames Hare and Hounds, which was one of the most historic athletic clubs in the country.
"My son was just under a year old, and I was at home so I never got the chance to see it," said Mrs Percival.
"It would have been an extra happy memory, but I did actually go to the Olympic games when the marathon was run, so I did get to see something," she said.
Mr Percival was an accomplished runner and would have been a contender for selection for the Finland Olympics, but this was cancelled due to World War II.
His career was cut short by a debilitating spine condition that would ultimately leave him disabled.
Mrs Percival feels that while the 2012 games will be profoundly different, she remains excited at the prospect.
"I would want to watch the torch running, because its an event that doesn't happen very often," she added.
"It's part of heritage and history."