Northamptonshire gets first 'heart school'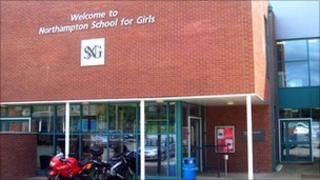 A secondary school has teamed up with the British Heart Foundation (BHF) to become the first "heart school" in Northamptonshire.
Northampton School for Girls is one of 10 schools in the UK to have this status.
Heart schools help raise money for the BHF and volunteer for many of its activities.
In return the school gains access to educational resources to help students learn more about keeping healthy.
Carly Waterman, deputy head teacher, said: "We like the idea of being a heart school as it is very much akin to our values."
"It raises awareness within our school for our girls to make sure that they are healthy as they grow."
The idea was prompted by two students from the school, Aisha Osman and Jaybin Care, volunteering at the BHF as part of their Creative and Media Diploma.
The BHF then approached the school and asked them to be a "heart school".
Northampton School for Girls has signed up to the project for three years. After that it will review the activities that it has been involved in.