Northamptonshire family to meet Transport Minister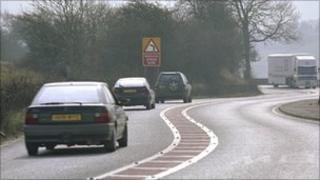 The parents of a teenage girl killed in a car crash in Northamptonshire are meeting the Transport Minister Mike Penning to discuss road safety.
Christopher and Nicole Taylor are concerned about the government's change in policy and reduction in funding.
The couple's daughter, Rebecca, died in an accident near Blisworth in September 2008.
Mrs Taylor said: "If we can save another family from feeling like we feel, then it's worth the effort."
'No motivation'
Northamptonshire County Council has turned off speed cameras and dissolved the road safety partnership as part of plans to save £68m from its budget.
The government has just published its 10-year strategic framework for road safety which has raised concerns for the family.
"They've got no targets on what to reduce road safety by and we feel that there's no motivation or direction," said Mrs Taylor.
The couple is calling for a reduction in road deaths to 1,200 by 2020.
They would also like to see the introduction of a graduated driving licence scheme, where people who have only just passed their test would have a period of time before they could drive with passengers.
The meeting with Mr Penning is due to take place at 1700 BST.