Restored Biggles biplane flies again at Sywell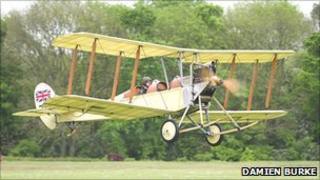 A replica biplane that was wrecked in a crash has taken its first flight.
The Biggles Biplane BE-2c, built by brothers David and Charles Boddington, was commissioned in 1969 for a movie.
The film, called Biggles Sweeps The Skies, was never made, but the plane was used in airshows across the US before it crashed in 1977.
The wreckage was in a hanger in New York and was rediscovered by Matthew Boddington who is Charles' son.
Matthew Boddington said: "It if hadn't been that my father had built it, it would probably still be in America."
In the 1970s the BBC used the plane in its television series Wings.
Discovered by accident
The replica plane had been built using Tiger Moth parts which were common in the late 1960s.
This is one of the reasons why it was kept in a hanger in America owned by Bill King.
Mr King owned a Tiger Moth and was given the plane for spare parts.
"Thankfully there were no bits on the plane that were still used by a Tiger Moth because they had all been modified, which is why the aeroplane survived," said Mr Boddington.
It took six years to restore the plane. It had sustained some severe damage to the wings, undercarriage and front.
Mr Boddington and his business partner Steve Slate put a lot of effort into restoring it.
"We have had a lot of people on the airfield here at Sywell who wanted to see it flying again and have given their time," said Mr Boddington
The plane took its first flight after restoration on 23 May 2011.
It is currently going through a flight test programme to get a full permit, but it is hoped that the plane will be used further in the future.
"We do hope that eventually it will do what it was built for and that is to take part in some film work." said Mr Boddington.