Northampton to offer free parking for an hour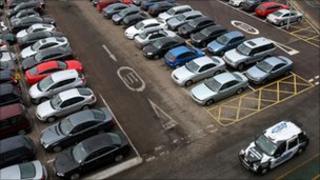 Shoppers in Northampton will be able to park for free in the town centre from October.
The plans mean visitors will be able to park at St John's, St Michael's and the Mayorhold multi-storey car parks for up to an hour before charges kick-in.
Tim Hadland, from the borough council said: "We are confident this will bring more people into Northampton."
The plan also see prices in other premier town centre car parks reduced by 25% for the first two hours.
"This is what people told us they wanted," said Mr Hadland.
'Powerful message'
"We know it's taken us a while to get the ball rolling, but now we are happy it's finally taking place."
On-street parking cannot be included in the plans as they are managed by the county council.
It is hoped that Christmas shoppers in particular will feel the benefit of the changes.
"It sends a powerful message that Northampton town is open for business and everyone is welcome," added Mr Hadland.
"Northampton is the county town and we ought to be helping shoppers who want to come into the town and use our facilities."
An evaluation of the scheme is planned for February next year to assess its impact on shoppers and retailers.
The council said it may consider upgrading machines to take payments by card and introducing pay-on-exit to more car parks.