Brook Farm Animal Sanctuary in battery hen re-homing plea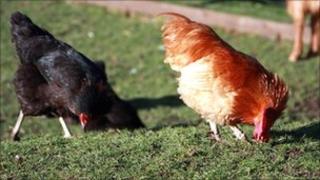 An animal sanctuary in Northamptonshire is looking for people to re-home 500 battery hens.
The Brook Farm Animal Sanctuary, in Raunds, was called in to rescue the hens from a farm in Suffolk which had gone out of business.
The sanctuary wants people to take on up to six hens as family pets.
Clive Richardson, from Brook Farm, said: "We had to go down to the farm in Suffolk to get the hens, it was physically and mentally exhausting."
The farm in Suffolk contacted Mr Richardson a few weeks ago to see if Brook Farm could take in the birds.
'Hardly any attention'
They initially told the sanctuary that it was getting 300 hens, but after another last minute phone call, Brook Farm realised that it was to get 600.
"We only had room for 400 so I had to ask the farmer to give us another day.
"We put an appeal out on the internet and got a few people to help us catch the other 200 hens," said Mr Richardson.
Brook Farm has already found homes for 100 of the birds. The hens can lay eggs and be kept in the back garden.
"They need hardly any attention and just a bag of feed will last you a few weeks," said Mr Richardson.