Ding family murder police appeal over hiding of suspect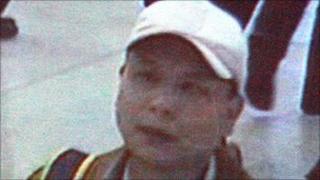 The man suspected of stabbing to death a family of four at their home in Northamptonshire must have been given help to hide, detectives have said.
The bodies of Jifeng Ding, his wife Helen and their two daughters, Alice, 12, and Xing, 18, were found at their home in Wootton on 1 May.
Anxiang Du of Coventry was last seen on CCTV in London on 30 April, the day after the family were killed.
Detectives appealed to anyone who may be helping him to give him up.
'Looked after'
They said they had no information to suggest Mr Du had fled the country and were working on the premise that he was last seen in London.
Det Ch Insp Tom Davies said: "The lack of positive sightings and the lack of information we've had around Anxiang Du suggest to me that he's been looked after by someone in the community.
"One of my appeals would be for people to bear in mind there is a Crimestoppers reward of £10,000 available.
"We do need to get him off the streets as soon as possible."
Positive feedback
A team of 10 officers met community leaders in London's Chinatown on Monday.
They also handed out leaflets to local people and local businesses.
The officers were assisted by officers from the Metropolitan Police and the London force's Chinese Unit.
Det Ch Insp Davies said of the Chinese community: "The feedback we got was very positive.
"They appreciate the nature of our investigation. They're very supportive."
Det Ch Insp Davies also said police were looking at a variety of knives found at various locations and were working with forensic experts to establish which were used in the murders.